This awful week in cultural offal.

BRITISH WOMAN NO LONGER STINKS OF ROTTEN FISH
Two years ago, Claire Rhodes was a fat pig who smelled like rotten fish. According to the British tabloids, she "was shouted at in the street and bullied at work because of her body odour." After a strict two-year diet of fruits and vegetables, she is proud to announce that she no longer smells like rancid sturgeon. After dropping some weight, she is also no longer fat, or at least not too fat. Now she is free to work on the most formidable challenge of her life—doing something about that face of hers.

Claire Rhodes: Doesn't smell nearly as fishy anymore.
TED NUGENT'S VEILED ASSASSINATION THREAT
Former rock star and current meat-eater/gun-enthusiast/impenitent yahoo Ted "The Motor City Madman" Nugent is allegedly being investigated by the Secret Service for comments he made at an NRA convention over the weekend. He called the Obama "evil" and "America-hating" and promised that if the Mulatto Messiah is reelected, Nugent will either be "dead or in jail" this time next year. "If the coyote's in your living room pissing on your couch, it's not the coyote's fault," Nugent sort-of-explained. "It's your fault for not shooting him." When Congresswoman Debbie Wasserman Schultz (Yenta – FL) reprimanded Nugent for his comments, he called her a "brain-dead, soulless, heartless idiot." Like they say, even a broken clock's right twice a day.
THE SWEDISH CAKE MISTAKE
Scandinavia is home to some of the most culturally sensitive Euro-weenies on Earth, which is why it comes as quite a surprise and even a refreshing shock that Swedish politicians recently thought it was a good idea to film themselves cutting into the "vagina" of a grossly stereotypical dark-black Ubangi-looking cake as the cake screamed for its life. The whole ill-advised stunt was arranged by Sweden's Minister of Culture and was supposedly intended to make a some kind of comment against female genital mutilation, which, obviously, is why everyone in the video is laughing their asses off.
DEALER TIES 89 BAGS OF DOPE TO HIS PENIS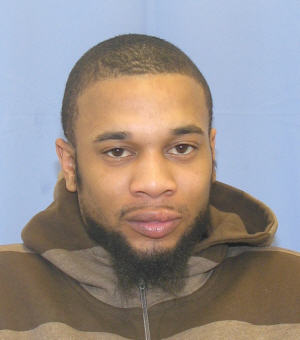 Ray Woods: Reason to smile.
When suburban Philadelphia conducted a routine search of suspected drug dealer Ray Woods, they discovered he'd tied 89 bags of heroin and cocaine to his schlong, at which point he began peeing uncontrollably all over the place. The most we've ever been able to tie to our penises is 25 bags. Good job, Ray!
POLL SAYS JEWS HATE CHRISTIANS
Everyone already knew this, but it's a breath of fresh air to see it expressed so openly. They hate them roughly twice as much as they hate Muslims.